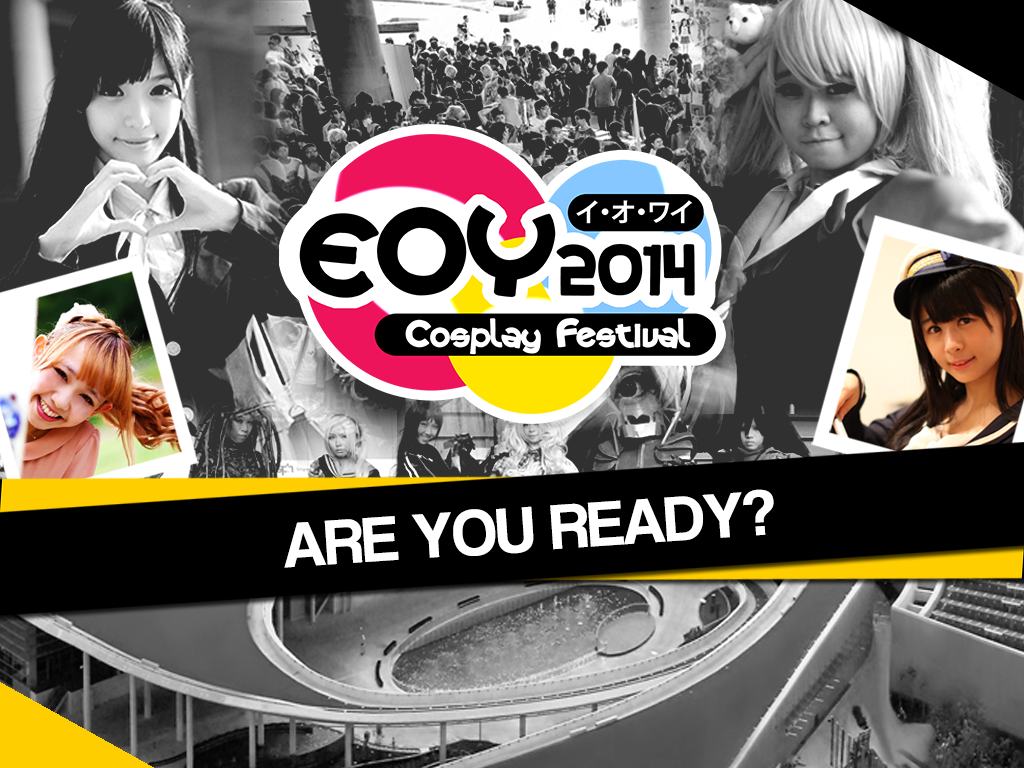 Here's everything you need to know to get the best experience out of EOY Cosplay Festival 2014, all in one handy page!
Festival info:
Venue: Marina Barrage
Data: 2 August (Saturday) and 3 August 2014 (Sunday)
Time: 10am to 7pm, both days, applies to all items and exhibitors unless otherwise stated.
Official card: PAssion Card. Do bring your PAssion Card to enjoy various privileges by the participating merchants!
———————————————–
Festival Highlights:
1) Watch Niconico dancers Penta and Marisu's dance performances and get their autographs!

Penta and Marisu are top-ranking dancers on Nico Nico Douga and this is their first overseas performance in Singapore! They have two performances on both days, at approximately 2.30pm and 4.20pm. Autograph sessions take place after the first performance on both days at the info counter beside the stage. There will also be official merchandise for sale.
2) Dine at Doki Doki Hearts Cafe + WACOM lucky dip

Doki Doki Hearts Cafe is a cosplay-themed cafe. The staff serve meals to customers while cosplaying. Cafe guests will be treated to delicious sushi wraps with original ingredients sponsored by Maki-san and uniquely-flavoured ice cream from Happy Ice, "power-up" chants by the staff (female characters only), play a game with the staff, get their photo taken with their favourite cafe staff and participate in a sure-win lucky dip! Operates boths days from 11am to 6pm
All event attendees: Come to the Doki Doki Hearts Cafe counter for a lucky dip of cute Japanese stationery when you like WACOM SEA's Facebook page. While stocks last!
There will also be a WACOM display for you to check out the hottest newest WACOM products in Singapore!
3) Photo stops

Have your photo taken for free by photo booth specialist La Novella, and redeem an exclusive Studio Photography voucher.
Snap a photo against a huge League of Legends backdrop, upload it to Instagram and tag it #EOY14LOL, and you stand a chance to win yourself some premium gaming peripherals!
There are also 4 itasha and 3 itansha (cars and bikes decorated with images of anime characters) to pose with!
4) Exhibitor Booths

There are artist/doujin booths selling self-printed books and goods that feature original and fan artworks, merchandise booths selling anime goods, cosplay items, japanese fashion items and more.
Special mentions:
STClassifieds: Visit them and stand to win exclusive prizes including a pair of tickets to Jay Chou's Opus 2 concert in Singapore.
ACS Comics booth: Anime goods from Taiwan and Japan
Pan-in-the-box: Cosplay goods and anime accessories for your otaku needs.
CatchJapan: Ichiban Kuji (sure-win lotteries) for anime goods and cute Sanrio products, as well as Japanese snacks and desserts selling in bundle discounts.
5) Food, glorious food

Treat yourself to full meals and ice cream at Doki Doki Hearts Cafe and Japanese snacks at CatchJapan. Also check out the following for snacks and thirst quenchers:
ACS Comics' drink booths: There are 2 booths at the event grounds selling soft drinks and finger food
Happy Ice: Unique Asian-flavoured ice cream and dry fruit snacks
Free ice cream if you like their Facebook, snap a photo with then, post and tag their Facebook page, and speak out Happy Ice's slogan: "Oriental, Flavourful, Less Sweet"
6) "Wonderland" A Theme Park Doll Display Booth

Fujiwarayukino.com and various local artists bring you "Wonderland" A Theme Park Doll display booth, consisting of a 4.8meters long exhibition with detailed props and gorgeous dolls. Join in the carnival with your cameras and your dolls!
7) Stage Performances

Almost non-stop stage action from 1.30pm to 5.30 pm on Saturday and 6pm on Sunday. Our stage performances consist of J-pop, anime theme songs, dances and musical performances, all of which have been carefully auditioned across a time span of 3 days!
For more details about each segment as well as specific promotions and PAssion card offers, check out the Cosplay Festival 2014 tab on www.theeoy.com
All the above info is correct at time of publishing. Terms are subject to changes by exhibitors.
———————————————–
Important reminders:
Over-revealing cosplay is strongly discouraged.
This means outfits that are transparent, revealing and/or scanty. These are requirements put forth by the Singapore Police and MDA event licensing, pertaining to our license to hold the event. This applies to all event attendees, cosplayers or not.
Please use skin-colour bodysuits, tights and the likes to protect your modesty where necessary. Don't let your fun be ruined by a police encounter or confrontation by an offended member of the public!
Don't engage stalkers/harassers
If you are being harrassed, walk away. Do not stoop to the level of stalkers/harassers. It only encourages them. Do not engage them physically or verbally, it will escalate matters and you may get hurt.
If the harasser persists or attempts to assault you, approach any of the event staff or security crew stationed at the event for help. We take the safety of our event guests seriously and will not hesitate to turn offenders over to the police.
Please look out for one another and help each other out!
Be considerate
Keep the place clean for your fellow event guests and members of the public. Dispose of litter in the bins. Do not dirty the toilets. There are limited toilets, so please do not hog the toilets for longer than necessary.
———————————-
Other Tips to improve your event experience
Download the EOY Smartphone App
Access event highlights, announcements, special promos and stage schedule on the go! Many thanks to Platiper Software for developing it for us!
For iOs: https://itunes.apple.com/us/app/the-eoy-app/id771524984?ls=1&mt=8
For Android: https://play.google.com/store/apps/details?id=com.platiper.theeoyapp&hl=en
Drink lots of water
Bring bottled water to keep yourself hydrated. There are water coolers at Marina Barrage where you can refill water. And there are two designated drink booths where you can buy cold canned drinks.
Deposit your heavy baggage at the Baggage Area

As the baggage area will be shared by many people, bring as little as possible so that everyone gets space, and keep all valuables on you.
Plan your transport based on the following convenient means:
By Car/Taxi :
From MCE
1) Exit to Central Boulevard (Exit 2 from AYE, Exit 3 from KPE/ECP)
2) Right turn into Marina Gardens Drive
3) Stay on Marina Gardens Drive passing by first Gardens by the Bay and Satay by the Bay on the left before reaching Marina Barrage.
From Shenton Way / Sheares bridge / Bayfront (MBS)
1) Go to Marina Boulevard (one-way road)
2) Left turn into Marina Gardens Drive
3) Stay on Marina Gardens Drive passing by first Gardens by the Bay and Satay by the Bay on the left before reaching Marina Barrage.
Parking is free, but please come early or the parking space will be full later in the day.
By Train/Bus
– 0700hrs – 2330hrs (Frequency of 15-20 mins)
– Alight at Marina Bay MRT Station (NS27/CE2) and proceed to Exit A from the station. The bus stop is about 2 mins walk from the MRT Station.
– Board Bus 400 and alight 5 stops later.
The above info is correct at time of publishing. For the most updated alternatives, please use StreetDirectory.com
Protect yourself from the elements of nature
Rain or shine, the show goes on. All our attractions are in sheltered areas. Bring an umbrella or raincoat/poncho to stay dry, and an uchiwa (cardboard fan) or mini electric fan if the heat bothers you.
Bring cash
Because you'll regret it so bad if you have no money on you and you see all the nice things that are for sale. There's no nearby atm, and most of the booths and attractions only accept cash. So make sure you bring lots of it, with small change if possible.
Don't become lost sheep
We're going green and will not be printing out any event flyers. You may view a soft copy of the event layout via the EOY Smartphone App.
Bring your coscards and name cards
EOY Cosplay Festival is a time to make friends! Do exchange cos cards with other cosplayers, your fellow fanboys/fangirls and photographers!
Bring your camera
Because you're going to facepalm / headdesk / pound your fists in anger / -insert violent action here- when you see the perfect -insert name of favourite character- walk by and you didn't get a picture.
Have fun and party up at EOY Cosplay Festival 2014!